The cuisine of Morocco, well represented in Marrakech, is a mix of aromas and flavors .
Many spices, a lot of pepper (well dosed), and a mixture of traditions and peoples .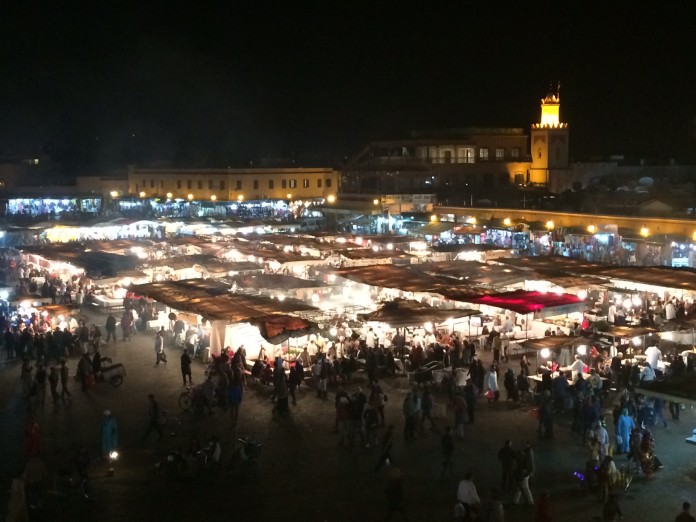 The inhabitants of Morocco have learned to use olives and dried fruit from the Spaniards. The Arabs have learned how to dose the spices with great skill, but in turn they have taught visitors or conquerors cooking on the grill or inside the Tajine.
All foods are taken into consideration: cous cous, legumes, fish and seafood, lamb, fruit and vegetables and even bread, essential on the table, and which is sometimes used instead of cutlery.
If you go around Marrakech you can experiment, even taste, better still taste this cross-section of culinary history.
Here some tips on where to eat and what to Marrakech:Kefta – to be eaten at Place Jemaa el-fna,
At the counter No.1 Es Aicha – do not appear on the menu, but just ask the waiters. And in a flash, in colored plates, spicy meatballs will appear and cooked on the grill . Strictly accompanied with the Harira, really really spicy tomato sauce.
Pastilla – one of the best places is the café Zaza . 
A small café located in the middle of the suok with a large terrace overlooking the banks and the life of the market. La Pastilla is a sweet-savory dish. A mixture of chopped almonds and chicken , or even more pigeon, covered with filo pastry sprinkled with powdered sugar and cinnamon.Kosy Bar – "Milanese" aperitif in marrochina sauce . 
Near the Mellah, the Jewish synagogue and the royal palace there is Ferblantier square where there are many shops of lamps and metal objects. In one corner, from which you can see the nests of the storks that nest on the walls of Bahia palace, there is the Kosy Bar, a place that combines the tradition of spices and oriental flavors with a modern and western-style atmosphere. A good aperitif with curry olives, goat's cheese and cardamom meatballs all accompanied by sips of Casablanca beer.